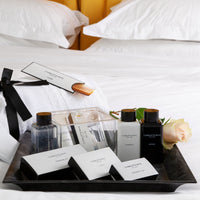 HOSPITALITY WHOLESALE
With CHARLOTTE RHYS the most luxurious hotel stays are possible without harming the environment. CHARLOTTE RHYS products are enjoyed by tourists and travellers from around the world. And as news spreads about our luxurious, vegan, cruelty-free collections - so does demand. 

Our products allow guests to enjoy a revitalising and personalised in-room spa experience which adds therapeutic value to each stay. 

If you would like to offer your guests CHARLOTTE RHYS unique Hospitality Range at your Hotel or guest house, please enquire by contacting us at e-commerce@charlotterhys.co.za or by following the link below. 
Link to our Hospitality Site: charlotterhyshospitality.com
PLEASE NOTE: If you are an existing client, please DO NOT enquire.
ENQUIRE HERE
BENEFITS OF A HOSPITALITY WHOLESALE ACCOUNT