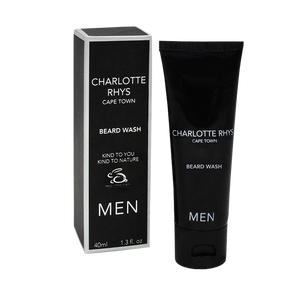 PLEASE NOTE: FOR INTERNATIONAL ORDERS PLEASE CONTACT US AT
E-COMMERCE@CHARLOTTERHYS.CO.ZA
CHARLOTTE RHYS Beard Wash helps cleanse and condition skin and facial hair and remove dirt and oil. Makes your skin feel hydrated while reducing itchy skin. Leave your skin and beard feeling cleansed and nourished.
Apply a small amount to moist skin and facial hair, work into a lather making contact with the skin beneath, and rinse. 
Available in St. Tomas Fragrance
Comes in a 40ml Tube. 
Pack Contains:
All CHARLOTTE RHYS products are vegan-approved, cruelty-free and carefully crafted using sustainable practices.