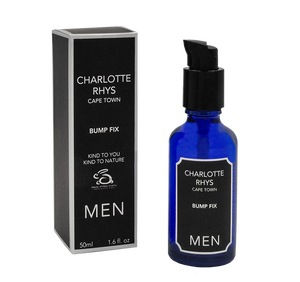 PLEASE NOTE: FOR INTERNATIONAL ORDERS PLEASE CONTACT US AT
E-COMMERCE@CHARLOTTERHYS.CO.ZA
A go-to solution for men that shave regularly, CHARLOTTE RHYS Bump Fix works to exfoliate skin's surface and eliminate dead skin cells, dirt, oil and impurities that clog pores. Soothe existing ingrown hairs and bumps on the skin and prevent any new bumps. CHARLOTTE RHYS Bump Fix will leave your skin feeling smoother and clearer.
Apply to affected areas with a cotton ball daily before bedtime. The skin should be clean and dry to maximize product efficacy. Avoid application directly after shaving or waxing, as a slight stinging sensation may occur.
Available in St. Tomas Fragrance
Comes in a glass dispenser bottle.
Pack Contains:
All CHARLOTTE RHYS products are vegan-approved, cruelty-free and carefully crafted using sustainable practices.