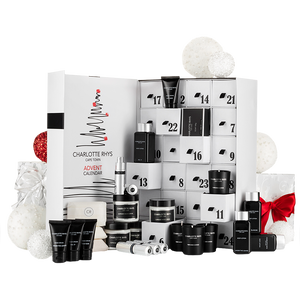 PLEASE NOTE 
Not for sale outside of South Africa due to shipping restrictions
If the countdown to Christmas fills you with festive joy, you'll love our brand-new CHARLOTTE RHYS Advent Calendar.
With a range of beautifully fragranced treats hidden inside, this stylish calendar puts a twist on a treasured tradition and leaves you feeling and smelling great. Featuring a selection of our signature scents to enjoy, it makes the perfect present for friends and family.
We also highly recommend keeping at least one for yourself as well - It is Christmas after all!

In The Drawers you'll find:
4 x 100g Bath Soap - (A timeless treat, our bath bar soap lathers into rich, sumptuous suds that leave your hands feeling and smelling incredible.)
4 x 50g Perfumed Candle - (Whether it's for cosy nights in or long summer suppers, our deliciously scented, slow-burning candles give you hours of fine fragrance to enjoy)
4 x 30ml Hand Cream - (With its beautifully fragranced formula, this luxurious lotion will help nourish and condition your skin, giving your hands the attention they deserve.)
4 x 100ml Hand & Body Lotion - (Packed with heavenly hydration, this lotion smooths into the skin, reviving and restoring your hands and body whilst leaving you smelling sensational.)
4 x 100g Supreme Body Crème - Our supreme body creme will nourish and repair your skin with its richly textured, yet elegant, formula locking in moisture to leave it soft and nutrified throughout the day.)
4 x 10ml Eau De Parfum - (With just a splash of our Eau de Parfum, you can transform your mood, elevate an experience and perfume your world)
Fragrances Include Oud Noir, Oud Blanche, No.17, Under the Leaves, Gingerbread (50g candle)
All Charlotte Rhys products are vegan-approved, cruelty-free and carefully crafted using sustainable practices.
PLEASE NOTE
Not for sale outside of South Africa due to shipping restrictions