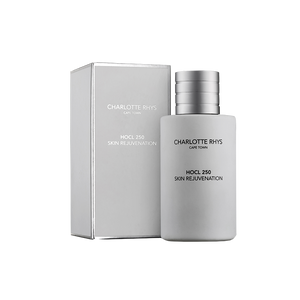 PLEASE NOTE
Not for sale outside of South Africa due to shipping restrictions
Suitable for all skin types, our luxurious HOCL 250 skin rejuvenation spray enhances your skincare regime and protects your skin from the environmental stressors of modern life. Pollution, UV rays, lifestyle stressors and chemicals can all have a damaging effect on the skin, causing chronic inflammation that triggers the ageing process.

Harnessing the skin's natural ability to restore itself, our rejuvenation spray is formulated with hypochlorous acid (HOCL), an active ingredient that supports normal skin-cell function and restores the skin's barrier. This is a beautiful addition to your skincare routine that you can look forward to every morning and night... Simply spritz your way to a youthful, glowing complexion!
Pack Contains
1 x 100ml HOCL 250 SKin Rejuvenation Spray
All Charlotte Rhys products are vegan-approved, cruelty-free and carefully crafted using sustainable practices.